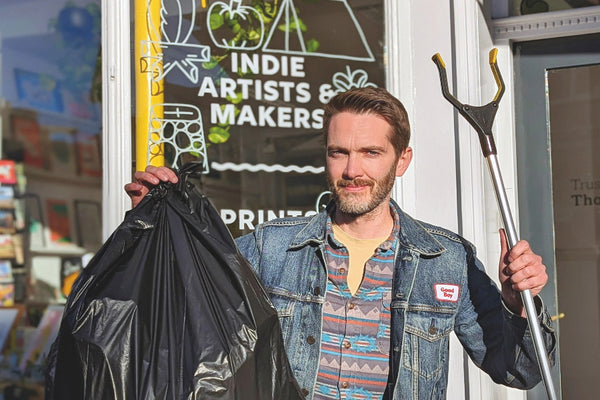 Black Friday is rubbish!
Every year instead of offering discounts on Black Friday we take a stand against mass consumerism and try to make the world a little bit better. Our Black Bin Bag Friday campaign not only urges shoppers to support small, local businesses but also cleans up the Lake District National Park.
For every order placed in our online store over the Black Friday weekend we pick 1lb of litter, helping to keep the Lake District beautiful and litter-free.
As a local, independent business we can't compete with the massive discounts that big brands throw at us for Black Friday, but we can compete by giving back to our local community.
By picking litter for every order made at our online store we can make a real difference to our local environment, making the Lake District a more beautiful place for everyone. Black Bin Bag Friday is our version of Black Friday, but better!
You can also get involved with the campaign if you pop into our Windermere store over the Black Friday weekend and borrow a litter picker and bin bag. We will be handing out 'Leave It Better That You Found It' stickers as a thank you for helping us clean up the Lake District and as a way to encourage everyone to keep our national park tidy.
We love getting out on the fells and swimming in the lakes and tarns of the Lake District. Time spent in the outdoors is vital for our physical and mental well-being so it is important that we look after our natural environment.
We are privileged to live in one of the most beautiful places in the world and litter doesn't just make our national park look untidy it can damage vulnerable habitats and endanger wildlife.
We live by the ethos 'Leave It Better Than You Found It' and through the Black Bin Bag Friday campaign we hope to make a real difference to the Lake District. Even one bag of litter removed from the national park is a positive step!"