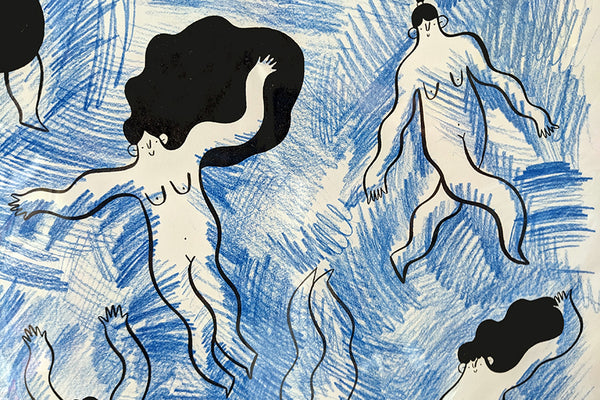 Prints and gifts for wild swimmers.
Living within walking distance of England's largest lake, we love wild swimming – whether it a summer evening swim out to the buoy with friends or an invigorating winter morning dip followed by cake and coffee at our favourite Windermere café. Inspired by our love of the open water, we have prints and gifts to bring a bit of wild swimming zen into your home.
Big mountains, big skies and big lakes: that feeling of freedom when wild swimming is hard to beat. These prints of mountains and lakes just make us want to dive in!
One of our favourite swimming artists is Hattie Clark, whose joyful prints capture the life-affirming thrill of a skinny dip. Come on in, the water's lovely!
We love how wild swimming can be a calm, zen experience or an adrenaline rush – as captured in this collection of prints. Do you have a swimmer in your life who loves wild swimming so much they are turning into a reverse mermaid?!
While we love swimming in Windermere and other lakes and tarns in the Lake District, there is something special about swimming in the sea – the power of the waves and the magic of the tides being pulled by the moon make it such an elemental experience.
Proclaim your love of wild swimming with a patch for your towel, swim bag or changing robe. Who remembers your mum sewing old-fashioned swim badges like the Windermere wild swim patch on your swimming costume?
We also have a wide selection of swimmy stickers and pins. Which of Tom Hardwick's cute animal pins is your wild swimming spirit animal? We love the sea otter!