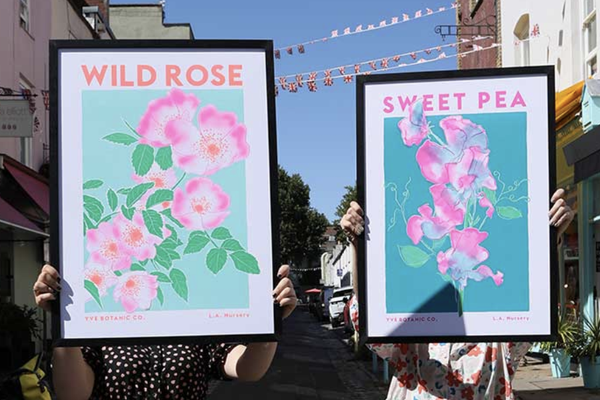 Bloomin' gorgeous garden and botanical prints.
Whether your style is veg patch, window box or wildflower garden, bring the outdoors in with one of our beautiful garden or botanical prints. You don't have to have green fingers to appreciate the beauty of the plants and flowers in our outdoor spaces – in fact you don't even need an outdoor space if houseplants are more your thing! With calming greens and bold pops of colour, garden and botanical prints are a versatile choice to set the mood in a variety of spaces.
Hello flower
From flamboyant blooms to sweet cottage garden flowers, our selection of botanical prints are as different and versatile as the plants and flowers in our gardens. We especially love this series of showstopping flowers by Yve Print Co – neon blooms with enough wow factor to bring a bit of pizazz to any room. Beware, in real life these Riso prints are eye-poppingly bright!
For a slightly more tranquil vibe, check out these beautiful Giclée and Riso floral prints – although Sarraceniaceae are carnivorous so not that tranquil! These prints of bunches of flowers will remind you of summer whatever the season.
Eat your veg!
If your idea of gardening is more Tom and Barbara than it is Margo and Jerry, check out our collection of prints celebrating the humble vegetable patch. Live the Good Life on your walls!
Growing a Garden is a Beautiful and Radical Act
Stay-at-home plants
You don't need a garden to have green fingers – Printer Johnson's series of houseplant-inspired Riso prints are perfect for the indoor gardener. Warm oranges, cool blues and pretty pinks will enliven all kinds of spaces – from home offices to kitchens. 
Hey fun guy!
We couldn't talk about gardens without mentioning our favourite fungi – although they are more likely to grow wild than be cultivated. Mushrooms and toadstools thrive in woodlands and shady gardens and have been captured in all their weird wonder in a selection of prints with earthy and russet tones.