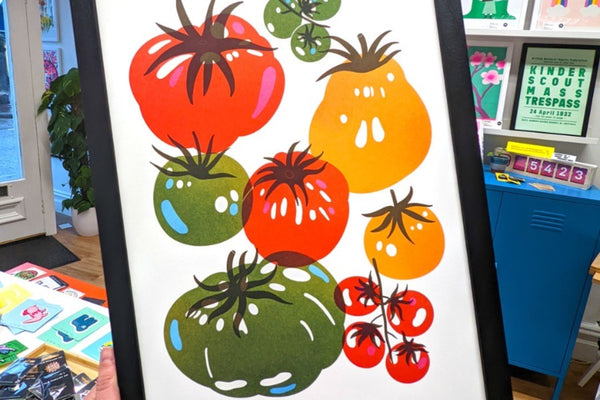 Prints to show your kitchen some love!
When it comes to artworks for the home we often forget about the kitchen. But the kitchen is so much more than just a functional cooking room – it's the heart of the home. Think of all those tranquil early-morning coffee rituals, late-night cheesecake chats (yes, we are Golden Girls fans!) or those full-on kitchen discos while cooking up a storm. So say goodbye to boring, plain walls and show the happiest room of the home a bit of National Park Print Shop love!
As the social hub of the house, choosing the right prints can elevate the kitchen to an inspirational living space for all those good times. As well as food and drink themed prints, go bold with prints that reflect your loves and personality
We have some awesome vibrant Riso prints from Printer Johnson that are perfect for brightening up the kitchen – add some spice with the Chilli Pepper print or choose Fungi or Homegrown veg for a pop of colour.
---
Our collection of  Printed Peanut prints are also perfect for the kitchen. Think classic brands and fresh ingredients.
Take a closer look at Tins Collection by Printed Peanut. Someone in the shop once delightfully asked whether you could make a recipe with all the ingredients? Featuring treacle, sardines and hot sauce, I was stumped to conjure one up - but what a challenge for the chef in your life. 
We love this Full English Breakfast print by Becky Mann – and check out her other foodie prints Tomatoes and Orangina for a dash of Mediterranean sunshine.
Fancy a brew?
Whether it's a brew to start your day off right or a cuppa to have a natter over, we've got coffee and tea prints to give your kitchen a little boost.
Vivid and bright to set your day off right.